Voice over Internet Protocol (VoIP)
The technology of telephones and the wire they use is over a century old. The actual way a phone works is just as old, in fact even the name of the technology for phones says just that – POTS – Plain Old Telephone System. The telephone you use in your home or business goes to a switching exchange, where analogue voice signal is digitized and sent further down the line, possibly even on a fibre line.
The copper phone wire has a very limited bandwidth and was designed to provide 3000Hz bandwidth, perfectly adequate for a voice signal. The DSL, Digital Subscriber Loop, can transmit at as high as 1.5Mb/s – but only if you are as close as under 15000 feet, around 4,5 km. So the antiquated phone system has some serious disadvantages when compared to fibre as this table shows –
| | | | |
| --- | --- | --- | --- |
| |  Distance |  Bandwidth |  Voice Channels |
|  Copper |  2.5 km | 1.5 Mb/s |  24 |
|  Fibre |  200 KM | 2.5+ Gb/s |  32,000 + |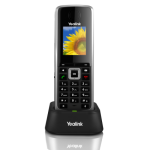 With VoIP, analogue voice calls are converted using codecs, such as G729, into packets of data. These packet are sent over the internet the same as any other data packet would be. You can use a VoIP service to call landlines and cell phones as well as to call computer-to-computer, with both parties using microphones and speaker or a headset to communicate. Over time the technology has grown in leaps and bounds to today when it is less costly to make a VoIP call than to use any other technology, other than 2 way radios.
East Coast Fibre are able to provide you with a VoIP number, or to port your existing number (031, 021, 041.etc) to a VoIP number and save you up to 40% on your bill.
How the pricing stacks up…
Telkom:
Telkom line rental per line is R248 per month
Telkom to Telkom Local call is 75c for the first minute and then 49c per minute thereafter.
Telkom to Telkom National call is 75c per minute
Telkom to Cellular Network call is R1,30 for the first minute and then 65c every 30 seconds thereafter (essentially working out to R1.30 per minute). Example: a call of 15 seconds costs R1.30
East Coast Fibre VoIP:
VoIP SIP account rental is R75 per month
VoIP to Telkom Local call is 49c/minute (billed per second from first second)
VoIP to Telkom National call is 49c/minute (billed per second from first second)
VoIP to Cellular Networks call is 69c/minute (billed per second from first second) Example: Same 15 second call costs 16c
NB: This SIP account can be loaded onto your cell phone and using the G729 codec you can make calls from your cell phone to your office SIP for free.
For more info read the article from IT Web titled – Costs of Calls here
Hosted PaBX (switchboard)
A Hosted PBX, also known as a PaBX or switchboard, is a private branch exchange (PBX) which is a Virtual PBX. Growing in popularity due to the fact that companies no longer have to foot the bill for expensive hardware that normally dies just outside of the warranty. This gives companies the advantage to use a PBX whilst eliminating the costs of installation, operation and maintenance costs of their VoIP PBX as their VoIP service provider hosts their PBX for them.
For Business we have a hosted PaBX which saves you up to 60% of your current Telkom bill. You can have as many lines as you require in your office, branches and on mobiles, and all calls between branches and mobiles are free. Being a hosted PaBX the only hardware you pay for are your desk phones. The system is a managed system with all the regular features and more. Your savings are immediate in that you can get the equivalent of 3 lines for the less than you would pay for one line with Telkom. On top of which our rates are less and we bill per second from the first second.